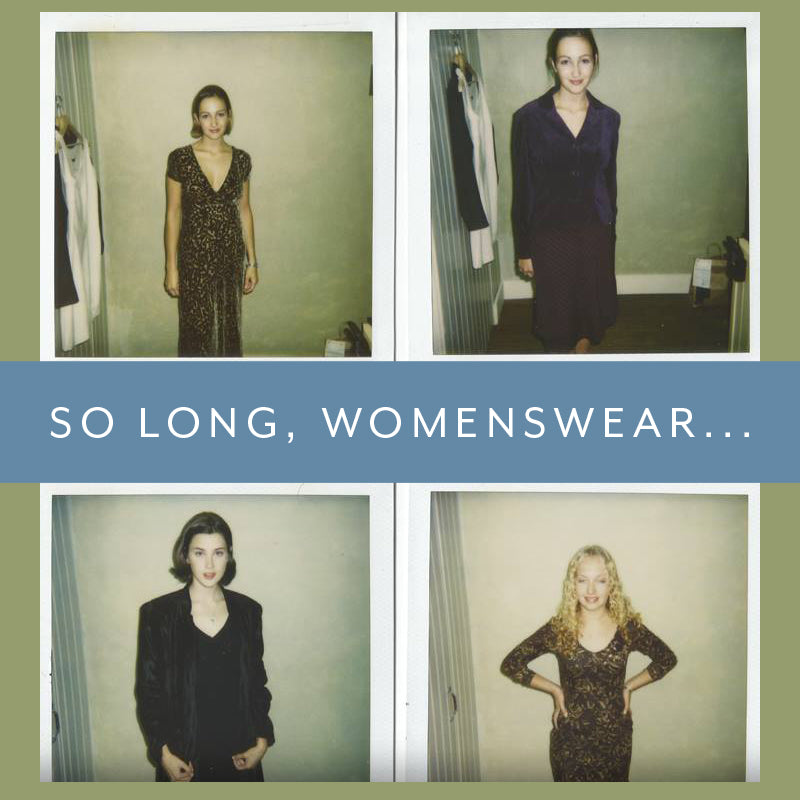 Here at 49th Apparel we LOVE womenswear, but we have decided to say farewell, for now. 
As our small business is growing and changing, we have realized we just can't do it all. So, we've decided to put a pause on our womenswear line as we focus on our growing sleepwear collection. Read below about the journey that got us here and what made us shift gears for 2022.
Beautiful women's clothes made by designers from Canada and around the world were always at the core of our retail store in downtown Sault Ste. Marie, Ontario.  While we carried lines like
Miik
,
Brenda
Beddome
, and
Melissa
Nepton
, Daryl also had his own line of 49th Apparel womenswear which was hand made in the studio space at the back of our shop.  Unless it was Christmas time (when we sold our signature flannel pajamas) our front window displayed impeccably dressed figures to tempt our locals.
In 2012 Daryl started focusing more on Canadian made producers.  During this time, he was still making small batch womenswear that was sold exclusively in our store. 
As a brick and mortar shop in a modestly sized Northern community, Daryl looked for other ways to grow the business and applied to the
One of a Kind Show
 in 2016.  Womenswear was fiercely competitive so Daryl, being the clever soul he is, applied as a purveyor of flannel pajamas.  After 20+ years of sewing our signature Northern Ontario PJs, he made a big splash in Toronto.  This was the beginning of our shift towards focusing on sleepwear.
At this point in our story, demand for Fall/Winter flannel sleepwear had outpaced our small studio. Daryl and his small team made women's cotton print pajamas in the Spring and womenswear all year round and in the late Fall we had a contractor in North Toronto help us keep up with the production of flannel pajamas for the whole family.  In 2018, we launched a Shopify store to try to tap into the online market, but it wasn't really the focus of our business as we continued to make beautiful things to sell locally and at the One of a Kind Shows. 


In 2019, as his seamstress Emilia was looking to retire, Daryl met
Henry
Nazareno
. One might say it was fate that led such a skilled cutter through his door.  For the first time, Daryl and Henry were able to work together to produce a womenswear and sleepwear line that were made solely in house.  49th Apparel discontinued carrying other lines of clothing and our online store featured only gorgeous things made at 480 Queen St. East, Sault Ste. Marie, ON.
When the pandemic hit in 2020 and we were all shopping from our couches, it felt like the right time to shift our store completely online as we had to close our doors to the public.  
One might say we were very, very fortunate when 2020 changed our lives entirely and we had the greatest year of Pajama sales.  Daryl imported more flannel fabric than ever before (see our last 
blog post
 for more details). 2021 saw even more changes as the dressing rooms were removed from the store, new electrical was installed, more sewing machines were plugged in and we got ourselves the proper ironing station (IYKYK) we had been dreaming of.


However, all these investments in the business combined with the current realities of operating a small company in Northern Ontario, meant something had to give.  So, after much deliberation, we have decided to give up our womenswear line to focus on our growing sleepwear collection.  


Daryl now spends his spare moments daydreaming about future capsule wardrobes and developing sleepwear that skirts the line between nightwear and daywear.  We want to thank everyone who has continued to support us through these wild years of growth.  Everything changes and nothing is lost.  While you can, take advantage of our
50% off womenswear sale
NOW
. And stay tuned, this is not the end of the story...