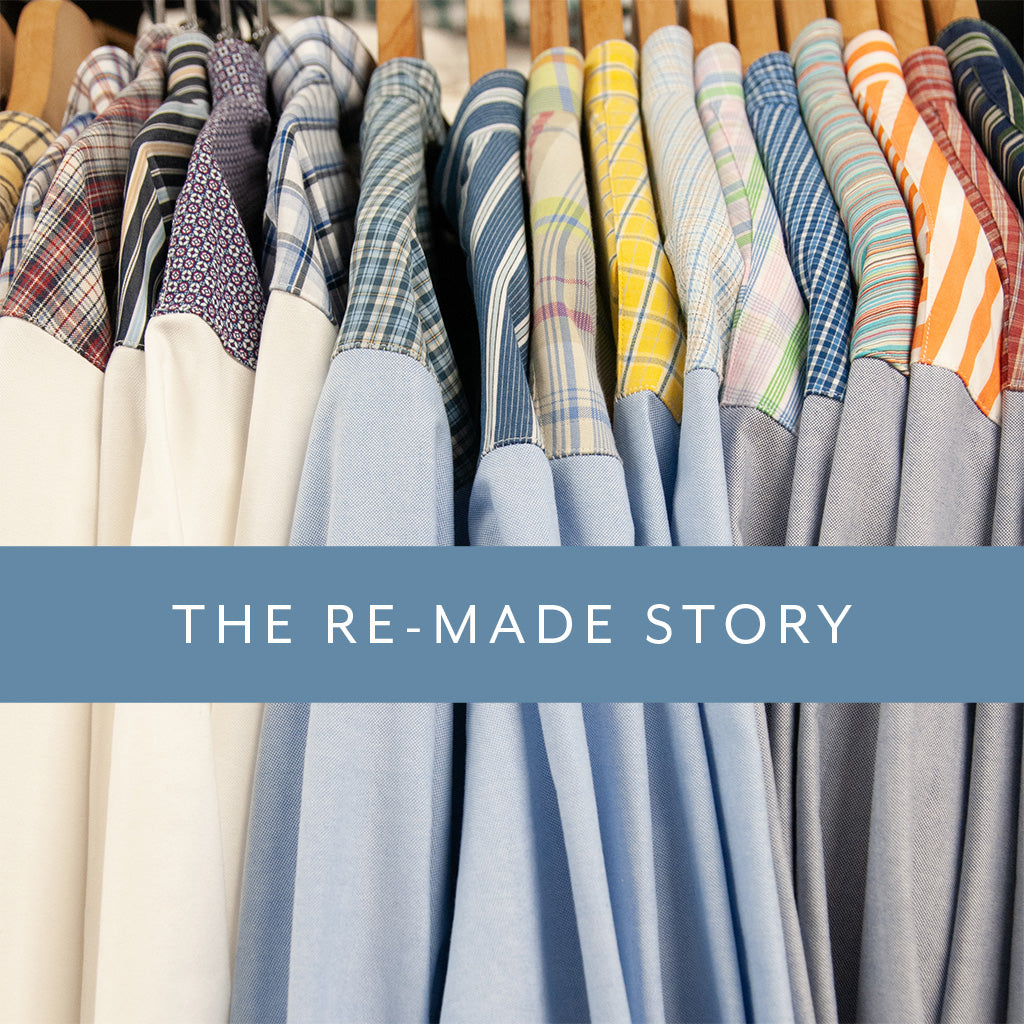 At 49th Apparel we believe in slow fashion and locally producing high quality garments that will be loved, worn and mended for years to come.


At the studio we try our best to minimize waste; we use up our left over fabric remnants and scraps in upcycling projects, sell them at our studio sales and put them in our new
Crafters Boxes
. Nothing goes to waste here. Our scraps have even been used to
stuff a dog bed
!
Re-Made was born in 2018 when we decided that we wanted to do a little bit more by giving new life to old clothing that was destined for the landfill. According to the Circular Innovation Council the average person throws away
37 kgs of textiles annually.
  Of that 81lbs there are often perfectly wearable items that wind up in clothing recycling facilities.  That's where our Re-Made story begins.

We make a trip down to Toronto about once a year to a graders clothing recycling facility where we spend a day (or three!) sorting through thousands of shirts. We choose the highest quality vintage men's shirts we can find to use in our Re-Made Collection. 
We use each part of the shirt - the front gets made into a the Re-Made Nightshirt, the back into Sleepshorts and the sleeves are destined for our new Re-Made Sunday Tunic. 


HERE'S HOW WE RE-MAKE A NIGHTSHIRT!



We take a road trip down south to a Toronto graders clothing recycling facility. 
The sheer volume of clothing being processed daily is truly unbelievable. 

Clothing sorted here is graded and it is either re-sold (if still useful), shipped abroad for recycling or sent to the landfill.

Shout-out to my son Gabe who always travels south with me to help with this big task!

We pack up and head back north with a van load of shirts.

Back at the workshop each shirt is laundered, reinspected and sorted. 

Here's Marilyn sorting and bundling a haul of 400+ shirts!
DECONSTRUCTING - We use scissors and seam rippers to carefully take the shirts apart. We remove the collars, cut off the sleeves, backs and fronts.

RECONSTRUCTING - The bright plaids and stripes of the shirts are sorted yet again.  This time by hue (to coordinate with the nightshirt bodies) and by size.  Using our custom nightshirt patterns we stitch the deconstructed pieces together with new cotton fabric.  


And here we have the
RE-MADE NIGHTSHIRT
!  
And the
RE-MADE SLEEP SHORTS!
These cozy cotton shorts are up-cycled from 4 vintage shirts. Nothing goes to waste here! Perfectly soft, pre-washed and ready to wear.  Each pair is unique with 4 different colour and pattern combinations. Choose your size and let us pick a fun pattern combination to send you! 

And later this year we will use the saved sleeves on the new SUNDAY TUNIC.  

Thanks for following along on our RE-MADE adventure!